October just ended, and I can proudly say that Nike+ thinks that I've ran more than 50km (~31miles). While I tried running already in August, I believe that this is my first proper running month as I've ran most of the days (ignoring first week when I was traveling).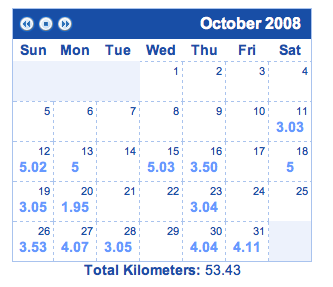 I've learned a lot of things in this time and I'll try to share some of them with others, as well as to help me remember them when I later look back at the story:
Nike+iPod running kit, together with good running shoes (I'm running with Nike Lunar Trainer+) is a great base for running. Previously I've tried running with normal gym shoes and just iPod and having constant feedback is much more empowering.
Feedback while training is really important, just knowing that you're half way towards your 3 km allows me to figure out what to do with energy levels and if I should shortly break.
Starting slow is a good idea. I started by just wanting to be able to finish 3km in one run and from there on.
First 10 runs or so are huge pain, but unless you're willing to really fight with your ego, you'll never reach fun.
Running when you're in shape is really fun and relaxing.
Having a proper equipment (running sweat shirt, shorts, etc.) makes the whole process even easier. Yes, you look really funny, but you can easily ignore this with added running fun.
I actually enjoy more running in the city at night. Light rain just makes the whole experience even better. I guess I'm strange in that regard.
Short progress is much better then injuring yourself from over-doing it. I "smartly" tried to go to 5km runs from 3km too fast, and as a consequence just got forced to not run for a while. Sucks.
Food is important, I now actually have to figure out what I eat in relation to when I plan to go running, in order to not get sick while running from too heavy foods.
There's also one big extra lesson – support group helps. While there's a great amount of people who actually make fun of my running, there's a group of existing runners (thanks Koornk ppl!) that share advice and give each other support that makes the whole process much easier.
Hopefully I'll be able to put another month of running into my calendar next month. I don't have any special plans besides just trying to fill in as many running days as I reasonably can. I'm postopning more serious running plans until this whole process truly becomes part of my every day and I have enough experience to actually figure out where I want to bring it.