There are many definitions of "crazy". A year ago, I would say that running around the lake in tights in middle of December, falls under extreme sports and it's not to be copied. Right now (week after), the whole notion of that being anything special, seems ridiculous.
What was happening? 4th St. Barbara run in Velenje. It was a Relay race in teams of 4 people. Our team was named Koornk (after infamous Twitter clone 😉 – with members: Katja, Miha and Valentin and me.
We've of coursed dress to the occasion: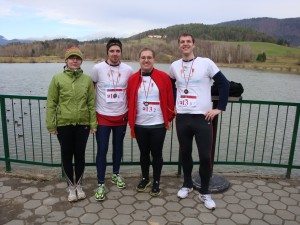 End result? 25th team out of 39. Really nice for a team of recreational runners 🙂
What did I learn?
running events are like big parties, sure you have to run for a while, but there's a lot of stuff happening afterwards
great spirit in the air with everyone playing nicely
running together with other people gives you extra boost
relay race is tricky since the whole team depends on you and there's extra pressure
it's much easier then it looks 🙂
Overall, I think I should start going to these events more often as it helps me to go out between fellow runners and learn a trick or two as well as give me extra boost for my solo runs.
In short: if you have a chance (and physical fitness) to do such event. Do not miss it! 🙂
Related articles by Zemanta