uCertify is an online companies that provides different course-ware for different vendor certifications, including Microsoft and Adobe. They've sent me a review copy of Adobe Flash CS3 Ace Exam as I wrote in my about box that I'll gladly write my opinion of things 🙂
The basic idea of the product is that if you take enough practice tests and the application takes score of the things you know and don't know you can slowly learn everything you need to know for the actual test.
Everything happens from this dashboard: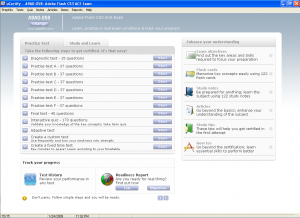 Instead of describing whole application, I'll try to make a more of a usability review of it.
Learning notes are well prepared but lack better navigation from within text. Having related articles or wiki like links would increase browsability of content in initial learning stages. Right now it feels more of a book experience that you have to read from beginning to the end in linear fashion.
Studying topics are nicely grouped but also give the sense of learning by heart feeling. It's probably really easy to pass an exam with this tool without having real experience with Adobe Flash.
I'm not sure what their intention with tagging was. It's useful to tag articles, but having to keep taxonomy in the head is a bad decision. Show me the tags I used on other articles so I can group them via tag!
Please use standard Windows dialogs. Having your own pop-up dialog is annoying as it doesn't confirm to usual Windows shortcuts.
More keyboard shortcuts would be useful. Like using direction keys on the keyboard for moving left and right, instead of having to click buttons.
Overall it's a nice and cheap way to study for exam and in the process also learn something. While it probably allows one to learn all the cue cards, ii also contains enough articles and explanation of questions and answer to be useful with real knowledge.
I would wish they would follow Microsoft Human Interface Guidelines as they have some interesting self made dialog boxes and interfaces.
I'm also a bit disappointing that it doesn't work on OS X as Flash is not Windows only. I tried installing it using Crossover Office but it sadly failed at that.
Disclaimer: this review was not paid, but I did recieve full uCeritfy Adobe Flash CS3 Ace Exam to be able to take a look.