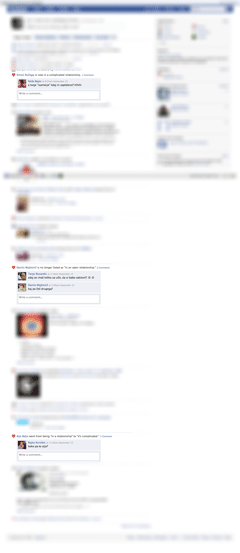 I was looking at my Facebook feed today as a pattern suddenly occurred to me. From all the things people post to their account or change, almost the only one that consistently gets at least one comment from someone is when they change relationship status to a lower level. Going from married to single or declaring that it's complicated.
A few months ago I speculated that it's unfortunate that Facebook doesn't allow you publicly lose a friend, but luckily enough it allows you to publicly dump someone.
As evidence I present this nice rendering of my Facebook time line of today.
I'm going to be short today and spare a lenghty rant about the importance of relationships in human society.
Related articles by Zemanta