January 2009 is no more and it's time to tally up on my new habit. January was a bit of disappointment and a success at the same time. I managed to get only 9 runs done in the whole month as a consequence of cold weather (-5C and lower together with ice on the roads) together with a cold/flu.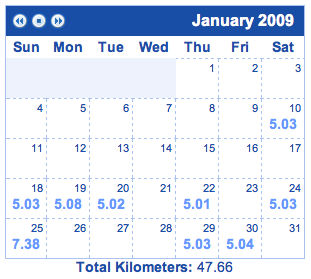 When I did run though, I managed to run further and faster then before. In second half of the month I managed to get all my runs above 5 km (~3.1 miles), which is something I could only wish for in December.
Extended length of runs actually managed to get my total sum to 47.66 km. Seeing that I didn't run for half of month, I'm confident I could break 100km per month goal if I would have a bit of help from weather.
Assorted observations
Running in a snow is a bit harder than it first seemed. One day snow running is OK, having a few centimeters of snow around all the streets is no fun.
I'll probably have to seriously consider going to a fitness studio so I can run there in February as it snowed again.
I'm running more and more without a specific length goal. I go running and then decided each time during the run if I feel like going 5km vs. 3.6km. Somehow I always chose longer one.
Somehow I don't feel like running below 0 degrees Celsius anymore. Anything above that is fine as long as it isn't icy.
I'm confident that with good training across the year, I could run my first half-marathon in fall. I want to do this more and more so it just might happen.
I started reading about nutrition and how my diet should look like to optimize my performance. Everything I read up to now made sense to follow even if you're not an at active runner.