It took me about two weeks of living in San Francisco to realize that as much as I love roller skating, it just won't work. I don't mind going up the hills, but going down just didn't seem that much fun or even safe for that matter. So I slowly started running again and learned to love all the hills around me.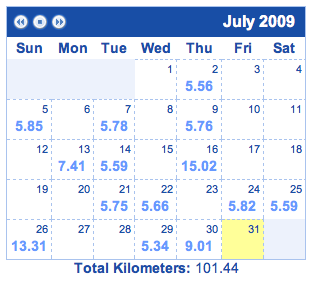 As always, there were a few interesting lessons that I learned from exploring the new area:
Google Earth is useless at telling you the height difference. You can plot a perfect running path and discover mid-way that there is a significant hill in-between.
Memorizing possible paths prior to running is all great in theory, but once you've ran for 45 minutes you realize that all streets have similar names here: "San Something" or they sound Spanish and that you don't know how to get home via your preferred route.
This leads to doing stupid things like running 15km, which to my surprise wasn't that hard. I did take a few days off after that, just to make sure I fully regenerate.
Getting back to 100km/month wasn't that hard and it took me only 3 runs/week. I'm hoping to raise it to 4 runs/week in next month.
That's about it. This was my 11 month of running since I started last year and I can't wait to see how my "last" month will go and to tally up the whole first year of running.
I'm also not sure about how I should proceed with my runs. I'm comfortable with my current pace and distance, but I'm not sure how much I can safely add into my training in terms of distance and number of runs.