These are my notes from the talk by @lizhenry on @GimpGirl community at The San Francisco Online Community Report Meetup.
GimpGirl is a community for women with disabilities, basically talking to each other. It's very important for them and hard to come by for many of its members. They don't focus on any special disability.
They've started in 1998, started with with mailing lists, later moved to LiveJournal in 2003 (about 350 people there). Opened in Second Life, Facebook and Twitter in 2008.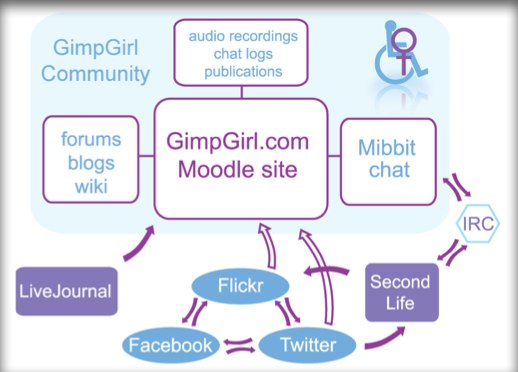 Often different communities transition around different technology, leaving little ghost towns of communities behind.
Second Life
Provides opportunity to network with other disability, women and non-profit groups.
Allow easier collaboration within community.
They've added adaptations for further accessibility by adding IRC relay.
It's really useful for people with different disabilities, e.g. they to be able to use their hands a lot, have trouble viewing, etc.
Their main site currently runs on Moodle.
You can get the fastest response on Facebook and Twitter.
Safe Space – we're all taking from our personal POV, supporting each other, talking from our personal experience. No harassment would be tolerated at all.
"Being studied" – often academics want to talk to people with disabilities. Community members usually just want to talk to each other and not being studied and trying to explain themselves all the time.
Interdependent Models of Access to Virtual World
Accommodation for individual users – "guide dog" that tells the names of the objects in SL environment.
Architectural access to community space
if you build your online spaces to support accessibility, it can be more welcoming to all people.
Build it in a way that is useful/easier everyone.
Universal Design for conversation – some people need synchronic communication, others would need asynchronies communication.
Differences between formal/unformal styles and comments can be off-putting to some people. Different channels allow for better access for everyone.
Integrate multiple channels
Build strong cross-platform relationship that distribute information on multiple channels. This allows greater amount of people to communicate as not all the platforms are accessible to all people all the time.
We should be building platforms that allow to aggregate and federate information across the web/platforms/multiple-channels.
Best practices for communication
Provide accessible formats for event information, e.g not just PDF flyer but also in plain text. (508/WCAG guidelines)
Live events in virtual worlds should have an IRC relay and audio feeds for voice chat. It might be also useful to everyone that would prefer alternative communication channels.
Asynchronous methods (blogs, forums) should be used along with synchronous (e.g. IRC).
Be inclusive of various speech and writing styles.
Acknowledge all contributions from the community, not just the most active members.
Give responsibility to most active community members. This allows the community to manage itself and own itself.
In bigger communities, it's useful to acknowledge them also in private on publicly in community as then they have a feeling that it's really a relationship. Public spotlight it's also useful way to give community members public awareness.
Use person-first language or other language preferred by people with disabilities.
Have clear methods for feedback on accessibility and other topics.
Include your audience/members in planning and execution of events – "Nothing about us without us"
Anti-patterns
Impersonal – no opportunity for trust
Profiles in courage. Pity. Charity.
Infantilization of people with disability by controlling information.
Patterns
Authenticity
Identity
Respect
+ many more.