Everyone and their dog should have an OpenID account now. Right? Well, mostly but I somehow managed to skip this revolution so while I probably have a bunch, I don't have primary one. Since this is a pretty complex decision I decide to ask my nice Twitter followers. I get almost instantly the answer – "use myopenid.com"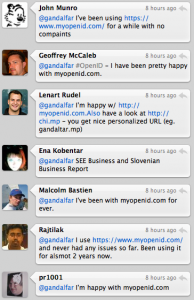 That's it. No Google queries and sifting through a number of blog posts reviewing different services. My own little crowd (?) already made a decision for me. Going with it sounds like a safe choice as I'll have lot of support in the community and they've been referred by people I more or less trust with these technical decisions.
There are two important shifts that we can take from this:
For certain types of questions Google is really not appropriate anymore. It used to be suboptimal but now we don't need it anymore. I don't even need to spam all my IM contacts to get the answer. The same medium of Twitter applies also for Facebook streams. Depends where your "friends" are.
It's a total upside down moment for brands when they can't buy Google advertising anymore. It's like the biggest nightmare that Seth Godin is talking about for a while. Passionate users and a good products coupled with a Word of Mouth effect. How do you as a company behave in such world?
I do realize that this is not strictly new as the same group effect was happening with BBS'es, USENET and later Forums but I do think there's something more liberating in the giant feed and ability to comment and cluster interests around it.
Next time (?) what happens when all these people learn to use FriendFeed?
Related articles by Zemanta