English: Instructions configure Si.Mobil Blackberry Curve to allow Mac OS X to connect to Internet. Guide in Slovenian language since it's most useful for Slovenian. For English speakers, here's a great guide.
Zgodba je čisto preprosta. Po nakupu novega Macbooka, ste ugotovili, da rabite Å¡e dober telefon. Ker v Sloveniji ni mogoče kupit iPhone, ste se odločili za naslednje najmanjÅ¡e zlo –
Orto Berry
. Sedaj ste ponosni lastnik
BlackBerry 8310
oz.
Curve
po domače. Kdor ni prepričan, da ima pravega – tule je slikca:
Tule je hiter vodič kako ta Blackbbery prepričamo v delovanje na OS X 10.5 oz. Leopard po domače.
Pa pojdimo po korakih:
1. Povežite Blackberry z vašim Macom. To naredit tako, da v Bluetooth nastavitvah v System Preferences, dodate novo napravo in izvedete pairing process.
Na koncu vas bo čakala takšna situacija:
2. Naslednji korak so Modem skripte. Iz Fibble.org si prenesite zadnjo različico. Prenesene skripte morate skopirat v Macintosh HD:Library:Modem Scripts v direktorij BlackBerry.ccl
3. Nadaljujemo z dodajanjem modema. V System Preferences -> Network, kliknite spodaj levo na plus gumbek in dodajte Bluetooth modem. Poimenovanje ni pomembno.
4. Nastavitve Bluetooth modema:
Najprej moramo Bluetooth napravi povedati, da uporabljamo Blackberrya:
Advanced -> Modem
Vendor: Research in Motion,
Model: Blackberry 8100 (dovolj podoben 8310, da deluje brez sprememb).
Ostale nastavitve pustimo nespremenjene.
5. Nastavitve operaterja
Telephone number: internet.simobil.si
Account name: simobil
Password: internet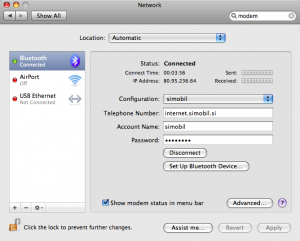 Ostanem nam samo še, da kliknemo Connect in opazujemo kako se vse skupaj poveže.
V praksi mi je uspelo doseči hitrost okoli 7kb/s tako pri downloadu kot uploadu. Upoštevati morate tudi, da z Orto Berry paketom dobite samo 100 Mb podatkov, kar se pri mobilnem surfanju hitro preseže, tako da je redno preverjanje stanja na začetku nujnost.
V primeru težav
Če se iz neznanega razloga vse skupaj noče povezat, lahko v Advanced -> PPP -> Settings: Configuration -> vklopite Verbose logging. Nato pa s pomočjo Application:Utilities:Console opazujete kaj se dogaja pri povezavanju. Žal stvar ne sporoča kaj dosti, ampak morda boste uzrli kaj zanimivega med dnevniškimi datotekami.